Dos y Dos: Moviendose Temporada 1- Vol. 2 (CD)
DVD Release:
June 1, 2010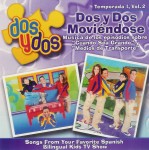 Synopsis
Dos y Dos – Moviéndose is one of the musical soundtracks from the TV series Dos y Dos and features songs from the episodes "Transportation" and "When I Grow Up".The music is fun for young children aged 2 through 7 and will be a favorite to sing over and over again. Each CD has every song in Spanish followed by an English version of the same song. The songs in Moviéndose are about transportation all around us and things children will want to do when they grow up. Dos y Dos is currently televised on the LATV network throughout the country and broadcast only in Spanish. Dos y Dos is also one of the World's only Spanish/English bilingual preschool television show.
Dove Review
This is a musical CD with the wonderful songs from the "Dos y Dos: Moviendose Temporada " DVD. Your children will enjoy the cute toe tapping music which they loved from the DVD. Containing all the delightful songs, they will dance to the music and sing-along as they do when they watch the show. They will love to take it everywhere. We award this CD the Dove 'Family-Approved" Seal for all ages.