God is for Every Day (CD)
DVD Release:
June 1, 2010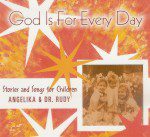 Synopsis
These delightful songs and short stories were especially created for young children to show how God is an integral part of their daily lives. They were designed to inspire a joyful appreciation of God's presence in their lives through His many gifts to them. The first part of the God Is For Every Day (R) recording introduces children to 8 themes, such as the "Lord, I'm So Grumpy" theme. Each theme includes a story and song combination to use a positive and often humorous approach to children's everyday problems and concerns. The second half of the recording is designed to give an opportunity for children to practice singing using the provided musical accompaniment.
Dove Review
This combination CD and book are a delight for kids! Join Dr. Rudy as he narrates some great stories and singer Angelika as she sings several uplifting and inspiring songs. The songs include "Jesus is My Friend", "Lord, I'm so Grumpy", "Rejoice in it!" as well as several others. The "Teach-A-Child" Companion book compliments the CD perfectly.
Your children will learn great life-lessons while imitating the great songs. They might even snap their fingers while listening! We highly recommend this great combination of the book and CD and gladly award this combination set our Dove "Family-Approved" Seal.