Lil Treasure Hunters
DVD Release:
July 17, 2010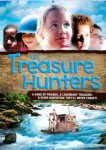 Synopsis
Nine-year-old Molly Brown lives and breathes the river. After her mother died, it's been her, her dad Paul, and Cappy, her ailing grandfather. With Cappy's medical bills, Paul's only choice is to sell everything and move. But Molly can't leave her friends, and especially the river. She has to make a plan!
Years ago, her mother used to tell tales of a lost treasure hidden on the banks of the river—but was it just a legend? It's up to Molly and her friends, the "lil river rats," to journey into the unknown, find the treasure, and save Molly from moving.
Dove Review
This is a cute little movie about kids taking a trip down a river to find a treasure that has been legendary for generations. Molly loves to be on the river and there is nothing keeping her from finding the treasure that her mother told her about. But she also believes in the things that her grandfather Cappy talks about before he passes away. He told her three important words: "Faith", "Truth" and "Courage." She wonders if those three words are keys to the treasure.
Those three words are not only a key to this adventure but is an encouraging message to all that view this tale. The importance of believing in the truth, having faith in what you believe and the courage to stand up for want you believe are just part of the lessons displayed in this charming story. We award this film the Dove "Family-Approved" Seal for all ages.
Info
Company:
Echo Bridge Home Entertainment