EZ Money
DVD Release:
October 14, 2010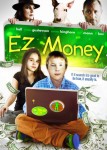 Synopsis
A mischievous nine-year-old girl's quick and simple get-rich-quick scheme hits an unexpected hitch when she incurs the wrath of a powerful gangster who is determined to hold onto his money in director Dan T. Hall's fast-paced family comedy. Molly Thompson has been sent to the principal's office yet again. A computer savvy pre-teen with a terminal case of curiosity, Molly intercepts an e-mail from a supposed Nigerian diplomat offering $3 million to anyone who can help him transport some stolen funds. When Molly combines her keen business sense with her nine-year-old brother Alex's killer skills at the keyboard, it appears as if the entrepreneurial siblings have netted their first cool million. Their celebration is cut somewhat short, however, upon learning that the fraudulent e-mail was not actually from a Nigerian diplomat in genuine need of help, but an international mobster whose clever scheme has pulled in piles of cash. As with any self-respecting gangster, this malicious Mafioso isn't about to see his plan foiled by a couple of scheming kids, and soon sets out to ensure that his cash stays put.
Dove Review
This is a hilarious film once is gets going. The pace was slow at first and you are not sure of the direction it is going to take but then it pulls the audience in. It has comical twists and is about a computer expert and sidekick of an undercover police officer, the con artist kids that want to get rich and an evil woman that wants her money back. The laughs just keep coming, making this a very funny family movie.
Along the way there is an underlying message to beware of those money scams that are sent to people on the computer and how they may sound good but they can lead to trouble. We award this movie the Dove "Family-Approved" Seal for all ages.
Info
Company:
Echo Bridge Home Entertainment
Industry Rating:
Not Rated