Ready Set Bag
DVD Release:
August 1, 2010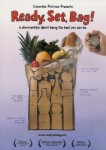 Synopsis
Audiences are falling in love with this unexpectedly fun film and agreeing that checkout will never be the same. A distinctly American story told with heart and humor, "Ready, Set, Bag!" chronicles the triumphs and challenges eight state champions experience on their road to the title of Best Bagger in America.
We all shop at the grocery store and the checker or bagger is often the only person of contact we have. It is here at the end of the checkout aisle that "Ready, Set, Bag!" brings attention to regular folks who find fulfillment in their work, always challenge themselves to do better, and take care not to crush the eggs.
Dove Review
It was not until I watched this astounding documentary did I consider such an intense competition existed when it comes to bagging groceries. This fascinating film takes the viewer behind the scenes with the baggers that will be competing in the national competition for the title of Grand Champion Bagger. With interviews with family, friends and fellow employees along with the chats with the baggers, the audience learns what it takes to do this job and enter the contest. It is a sport that not too many people have ever thought about. We award this film the Dove "Family-Approved" 12+ Seal.
Info
Company:
Ensemble Pictures, LLC
Industry Rating:
Not Rated