Forgiven
DVD Release:
March 22, 2011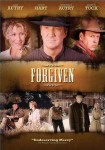 Synopsis
It's 1878 and Jake Kincaid has just been released from prison for a crime he didn't commit. His heart is seeking vengeance on those responsible for landing him in jail, but he's also very interested in finding the gold he was accused of stealing. In his quest, Kincaid finds himself in the small lumber town of Fairplay, California. Here he meets an independent woman trying to do it all on her own, and a mischievous little girl with a quest of her own – finding something to fill her lonely heart. Fairplay is where Kincaid learns that love is far more powerful than hate and that redemption is more precious than gold. Starring Alan Autry and David Hart ("In the Heat of the Night"), "Forgiven" is Autry's directorial debut and a western the whole family can enjoy.
Dove Review
"Forgiven" is a pretty good western, gritty and rough and tough and yet it features some tender moments too. The lead actor, Alan Autry, has a great deep voice and is a tall man who plays the lead character, Jake Kincaid, as a man with a mysterious background. Autry directed this film as well as starring in it. Whether he is a good man or bad one is not clear in the beginning but as the plot develops we learn more about the character and what motivates him. His wife has recently died and he meets a woman in the story, Emma Wilson, who could be a part of his future if Jake can make peace with his past. Interestingly, Kimberlee Autry, Alan's wife, plays Emma.
The story has its share of villains too, including a couple of no-good cowboys who pester Jake, and one particular bad one named Quinn who shows up in the end, bent on taking a few lives as a plot of revenge. This western has its share of saloon scenes and fist fights, but on the other hand church scenes are featured in the movie and as the title of this film reflects, the message of God's forgiveness is clearly presented.
This is an entertaining film which features romance, shoot-outs, fights, greed, and even presents a message that forgiveness is available. We happily award this movie our Dove "Family-Approved" Seal for ages twelve and above. There are some violent moments (it is a western after all) but they are not gratuitous. This western will make you feel as if you are in the old west as you watch it. And Alan Autry is a likable lead character. So go ahead and check it out, partner.
Info
Industry Rating:
Not Rated
Reviewer:
Edwin L. Carpenter