Sweet Gherkins
DVD Release:
July 23, 2010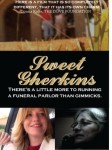 Synopsis
As a satire of chick flicks, "Sweet Gherkins" is a small story about five women –who live in Schertz, Texas, and are suddenly in charge of Gherkin's Funeral Palace and Catering Service after three husbands die at once. Our story appears to be an "ensemble" , until NAOMI gets a shocking letter: she is being deported back to Mexico. RUTHIE announces that she will go with Naomi. MARA quickly assumes that she will take over the business because she is the only one qualified. Naomi wants to keep it in the family. ORA LEE, oblivious to Mara's desire, announces that she believes God wants her to take over the business. And, by the way, Ora Lee's daughter Charity fights with her. Ora Lee suddenly has innovative ideas! She implements bold advertising banners, a TV commercial offering buy one get one free, the Gherkin's Funeral luncheonette, a wardrobe of bright pastel happy colors, etc. The girls believe Ora Lee has cracked the code for success in the funeral business. And customers pour in! But Mara plots against Ora Lee.
The State Funeral Director test is next week. After a change of heart, Mara pledges to coach Ora Lee in what she needs to pass the State boards. In a Rocky-style "boot camp," Mara crams lists, rules, and more lists into Ora Lee. After Ora Lee passes the tests, she reads the verse on the kitchen wall to Mara: For I know the plans I have for you,' declares the LORD…'
Dove Review
This is a movie different from the normal kind of funeral story. When we think of funerals we think of a sad affair, but in this film the occasion is turned more into a hilarious male bashing. As the women of Gherkin's Funeral Palace and Catering Services try to put their lives back together after the loss of their dear departed husbands, changes are made to their personal lives along with the business. This is a story that combines the thoughts three women have about their men, the funeral catering business and relationships in faith all into one.
Here is a film that is so completely different, that it has its own charm. I must note that this film was directed by a talented 16 year old. We award the Dove "Family-Approved" Seal to this movie.
Info
Industry Rating:
Not Rated