The Champion Behind the Champion (Illustrated)
Book Release:
July 15, 2010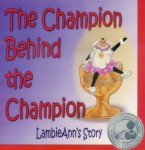 Synopsis
The message of BarbarAnn Fitzgerald's illustrated young person's book, The Champion behind the Champion is that being a champion isn't just about winning. It's about doing your best, learning to excel, thriving through adversity including injuries, and understanding both how to win and how to lose with grace and good character. And if you do all this, you're still a champion, even if someone else walks away with the gold medal.
Suitable for all child athletes (especially skaters), The Champion behind the Champion follows a lamb through her career as a competitive skater, starting with falling in love with the sport as a toddler watching skating on TV, and going all the way to the national championships as a teenager. LambieAnn walks the reader through a scrapbook of her skating life in a playful, straightforward style, accompanied by endearingly cute original illustrations.
Dove Review
This is fantastic book for young children or anyone interested in skating, but more important it is a story about what it takes to be a champion and that means not always being the winner. LambieAnn tells her story from beginning to end and the things she endured to become a figure skater. She had many challenges to face in this sport that most people don't think about.
LambieAnn comes to life in the colorful illustrated story of dedication of endurance. It is a charming story for the future skaters in your house. We award the Dove "Family-Approved" Seal for all ages to this book.
Info
Company:
Barbara Ann Fitzgerald
Industry Rating:
Juvenile
Starring:
Illustrated by: Barbar Ann Fitzgerald