The Christmas Pumpkin (Illustrated)
Book Release:
August 1, 2010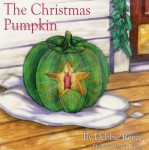 Synopsis
Inspired by her son, this story is about a pumpkin that never turns orange and seems neglected for Halloween. A young boy decides that he wants to use it to celebrate Christmas. He faces laughter from his classmates and adults about his unique idea. However, the loving support of his family and his own self confidence allow him to continue with his plan. He decides to decorate the pumpkin and show everyone what a pumpkin can do for Christmas. If soon becomes the source of neighborhood curiosity and inspiration. The story helps readers understand that if you believe in something, you can make it happen. It sweetly conveys the significance of some holiday traditions through the eyes of a child. Readers get to use their own creativity and design their own Christmas pumpkin on the last page.
Dove Review
Teaching children that it is okay to be different is the theme of this wonderful illustrated story book. With colorful pictures this story tells how James thinks outside the box when it comes to pumpkins. No matter how many times others make fun of his idea, James continues to believe in himself and his new use for the green pumpkin.
This story has a lesson for all children, and the lesson is that thinking differently is okay. We proudly award the Dove "Family-Approved" Seal for all ages to this cute children's book.
Info
Starring:
Illustrator: Ron Head