The One Lamb (DVD)
Theatrical Release:
March 30, 2009
DVD Release:
August 31, 2010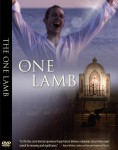 Synopsis
Jackson Price, high profile politician, loses everything after making a tragic mistake. At the bottom of his fall from grace, Price learns he has life threatening cancer. Abandoned and all alone, Price is befriended by a retired pastor named Earl. Pastor Earl cares for Jackson while he battles cancer and shares with him the love and unconditional forgiveness of Jesus Christ.
Dove Review
This is a story of transformation. A married man named Jack Price (Bryan Forrest) is a powerful campaign manager who has led a popular politician toward a seat in the Senate. In fact, Jack even makes the cover of Time Magazine. Then he has an affair and after his best friend squeals on him his job, marriage and seemingly his entire life goes down the drain.
The news gets worse when he learns he has cancer and has to undergo immediate treatment. When he meets a man known as Pastor Earl, he begins to consider his spiritual life for the first time in many years. Can he find the reconciliation he needs before he passes on?
This story carries a powerful gospel message, and the ending moved me and is flat out inspiring. The two lead actors, Bryan Forrest as Jackson Price and John W. Price as Pastor Earl, give us memorable characters who are straight shooting, stubborn, and interesting to watch. Due to the topic of a man cheating on his wife, parents should use discretion and view the film with their children twelve years of age and older, but it is a remarkable and inspiring story with a strong theme of redemption and we gladly award the movie our Dove "Family-Approved" Seal.
Info
Producer:
University City United Methodist Church
Industry Rating:
Not Rated
Reviewer:
Edwin L. Carpenter