Coyote County Loser
DVD Release:
December 21, 2010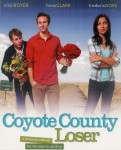 Synopsis
A struggling radio station has a reversal of fortune when Los Angeles radio DJ Jack Proctor arrives in remote Coyote County and gives new life to a dying talk radio station. After clashing with local radio star Lauren Hartford, Jack initiates an on-air contest to find the "biggest loser' in town and offers to help the "loser" to woo any woman in Coyote County.
Dove Review
Love is lost in this little Southwestern town in the middle of nowhere, but help is on its way. Jack from the big city arrives in Coyote by accident when his car runs out of gas and Lauren on the other hand owns a PhD and is the local radio expert on love. The combination of the two adds hilarious bantering as they constantly bump heads on their own views on how to find love. Lauren uses a check list like buying a car and Jack believes in the old fashioned method of romantic wooing. Along the way they find that they each have something to offer when it comes to love.
Sometimes it is hard for any of us to find true love but here is a wholesome romantic comedy that may give a little help in matters of the heart. It is a cute film about love and two different opinions on how to find it. It is a charming movie that everyone in the family will enjoy. We award the Dove "Family-Approved" Seal for all ages to this delightful DVD.