My Necklace Myself
DVD Release:
August 17, 2010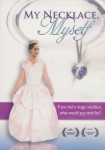 Synopsis
Lacie, a shy, fifteen year-old tries to figure out what to wear for first date. Her mother presents her with a gift, a necklace that allows its wearer the chance to become anything they wish. So with her best friend Serrin in tow, Lacie goes on a magical journey to find out who she really is. Will she find what she is looking for? Or is what she's looking for waiting for her in the mirror? Finding your true self is just a simple wish away.
Dove Review
The first date for a teenage girl can make her a little nervous. This is a movie about how a necklace allows Lacie to see what the future could hold if her dreams came true. The film shows that what you wish for may not always be as perfect as you think and it is better to be yourself than someone you are not.
It is a charming story geared toward teenage girls with a lesson about believing in yourself and who you are. We award this short film the Dove "Family-Approved" 12+ Seal.
Info
Company:
FilmWorks Entertainment