Hickory Dickory Dock (Illustrated)
Book Release:
July 1, 2009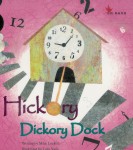 Synopsis
This book is based on the popular poem by Mother Goose. Have you ever wished you could be small like a mouse? What would you do? What would you eat? What games would you play? Dr. Mike Lockett created a story in rhyme with an exciting plot. Beautiful illustrations by Lulu Yang make the story come alive. Readers find something new every time they read this delightful book.
Dove Review
Hickory Dickory Dock is a fun story book that tells of the famous little mouse of the clock and the animals that come to visit. This is a wonderful bilingual book (English and Chinese) that will be dear to young readers around the world. On one side is the English version and flip it over to read the Chinese version. It is charming and colorfully illustrated plus each book comes with a CD. We award this book the Dove "Family-Approved" Seal for all ages.
Info
Company:
Heritage Shoolhouse Press
Starring:
Illustrated by: Lulu Yang