The Cat and the Mouse (Illustrated)
Book Release:
July 1, 2009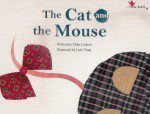 Synopsis
This book is based on a little known Mother Goose poem, "The Cat and The Mouse". They played together happily until the cat bit off the mouse's tail. Dr. Lockett took the simple poem and turned it into a cumulative story that helps the mouse get his tail back. Pre-K students love the book as a read-aloud. Parents and teachers can use the exciting and vivid illustrations by Taiwanese Artist, Lulu Yang to take children on a "book walk" as they read the story. The predictable plot and repetition in the story make it enjoyable for young readers.
Dove Review
Here is a wonderful bilingual book (English and Chinese) that young children around the world will love. On one side is the English version or flip it over and read the Chinese version of a delightful and enlightening story about a little mouse that needs help from others to get his tail back from the cat. It is a cute rhyming story and wonderfully illustrated. In addition, each book comes with a CD. We award this book the Dove "Family-Approved" Seal for all ages.
Info
Company:
Heritage Shoolhouse Press
Starring:
Illustrated by: Lulu Yang