Anastasia Pickering: Anastasias Rain (Illustrated)
Book Release:
December 1, 2009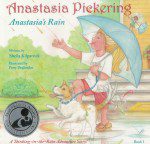 Synopsis
Anastasia Pickering is ALMOST a typical six-year old…except she always runs into rain showers. Now you may think that rain is not fun, but Anastasia's colorful and magical showers might just change your mind!
PATIENCE can be hard to learn, but important to use! Patience the fairy is Anastasia's ponytail riding, blueberry snitching, and invisible friend. She is never far away when Anastasia needs a dose of good advice!
When Anastasia faces perplexing situations, rain showers appear. As she listens to her fairy, Patience, she resolves the problem and the rain changes into all the colors of the rainbow. With a twirl of her umbrella, everyone is dry again, lessons are learned and a beautiful rainbow brightens the sky!
Dove Review
Whenever any one goes to get a new pet it is an experience that can be fun and exciting. Anastasia is on a birthday adventure to pick out her new pet, a dog. She must find the perfect one that will be able to share all her other adventures.
Everyone will love to read this colorful story book over and over again. It is especially fun for the young new readers in your household. We award the Dove "Family-Approved" Seal for all ages to this charming story book.
Info
Company:
www.anastasiapickering.com
Starring:
Illustrated by: Perry Deglandon