Franklins Birthday Party
DVD Release:
February 16, 2010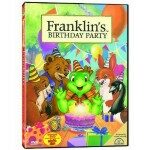 Synopsis
Franklin gets carried away with his birthday plans and offers to take all his friends to a spectacular party at Tamarack Point. Mom and Dad insist on something less extravagant. Not wanting to disappoint his friends, Franklin endeavors to create something equally as fun in his own neighborhood.
Dove Review
Here is a collection of four colorful animated stories with a cute young turtle named Franklin in one DVD. As in all stories about Franklin, there is a lesson to learn from the events that he and his friends find themselves in. Franklin and his friends show your youngsters how to handle different issues in their lives. This collection shows the effects of having nicknames, promising something to your friends that may not happen, telling the truth when you break something and the fact that sometimes friends can change if you have not seem then in awhile.
Franklin is a good influence for your youngsters. We are proud to award this DVD the Dove "Family-Approved" Seal for all ages.