Summer of the Colt
DVD Release:
October 12, 2010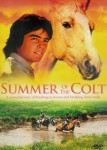 Synopsis
This story is set on a magnificent ranch in the Argentinean pampas. "Summer of the Colt" is the story of Laura, Daniel and Felipe who come from Buenos Aires every summer to spend their holidays with the grandfather, Frederico. Felipe's happiness comes in the form of a new puppy while Daniel faces the summer of his greatest challenge, which involves breaking in his first horse. For Laura, things are not so simple. At the age of 13, she is no longer a girl and not yet a woman. Proud and stubborn, Frederico must change his ways to keep the love of his grandchildren. A powerful story full of humor and passion, recounts the joys and sorrows of growing up and growing old.
Dove Review
When I was a child, each summer I would spend one week with my grandparents on the farm. This is a film about three children going to their grandfather's ranch in Argentina. Each one has their own new adventure during this special summer. Laura the oldest is at the awkward age of 13. She is not a kid any more but not yet a grownup. She can't understand why her grandfather treats the grandkids the way he does. Daniel just wants to break a horse of his own and does not look around him to see or understand other's feelings. Then there is little Felipe who is just a little boy who wants to make everyone happy.
Set in Argentina and originally a foreign film, it has been dubbed in English. The story is one about coming of age and family. No matter where in the world you are, family is family and they all have problems within them. We award the Dove "Family-Approved" Seal to this film for all ages.
Content Description
Nudity:
Young boy takes off his shirt; young boy sitting on toilet; man in bath tub; girl talks to Grandfather while he is in tub.
Info
Starring:
Héctor Alterio
,
China Zorrilla
,
Alexandra London-Thompson
,
Juan De Benedictis
,
Santiago González Crende
,
Mariano Bertolini
,
Gabriela Felperin
,
Manuel Callau
,
Emilia Farah
,
Gerónimo Espeche
,
Dolores Sola