Magic Eyes of Little Crab (Illustrated)
Book Release:
August 1, 2010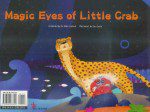 Synopsis
Little Crab plays a special "eye sailing game." He is able to magically pop his eyes out of his head and send them flying across the beach and into the ocean. The plot thickens when Jaguar wants to know what Little Crab sees under the water. Illustrator, Sun Lotto, from Taiwan, adds colorful depictions of the creatures beneath the seas that Little Crab and Jaguar see when their eyes go sailing. The book is an easy-to-read fiction story. It is appropriate for a read-aloud for pre-kindergarten through first grade and an independent reader for grades two and three. An audio CD comes with the book to help readers follow the story on their own. Magic Eyes is in a bilingual format with English on one side and Chinese on the other.
Dove Review
This is a wonderful concept to a bilingual book (English and Chinese) that will be dear to young children around the world. Accompanied by a CD, your young readers can follow this charming storybook that tells of a little crab that can send his eyes on an adventure in the ocean and what he can see. But when a jaguar wants to be able to have the same adventure, he does not listen to the little crab and there are some consequences. We award this book the Dove "Family-Approved" Seal for all ages.
Info
Company:
Heritage Shoolhouse Press
Starring:
Illustrated by: Lulu Yang