Monkey and Rabbit Together (Illustrated)
Book Release:
August 1, 2010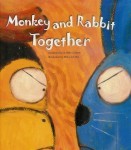 Synopsis
Based on an African folktale, this book tells the story about Monkey and Rabbit and their bad habits. Monkey is always scratching. Rabbit is always sniffing and wiggling. The two have a contest to see who can sit still the longest as they try to get rid of their bad habits. Tawanese illustrator, Ming-Jen Hsu brings a wonderful look to the story by adding animal onlookers to the jungle contest. The book is an easy-to-read fiction story. It is appropriate for a read-aloud for pre-kindergarten through first grade and an independent reader for grades two and three. An audio CD comes with the book to help younger students and English language learners follow the story on their own. Monkey and Rabbit is in a bilingual format with English on one side and Chinese on the other.
Dove Review
Accompanied by a wonderful CD, your youngsters can read along in this charming bilingual storybook (English and Chinese) that will be dear to young children around the world. On one side is the English version or flip it over and read the Chinese version of a delightful and enlightening story about two friends, a rabbit and a monkey that come to understand each other and that each of them have some annoying bad habits. We award this book the Dove "Family-Approved" Seal for all ages.
Info
Company:
Heritage Shoolhouse Press
Starring:
Illustrated by: Lulu Yang