The Last Exorcism
Theatrical Release:
August 27, 2010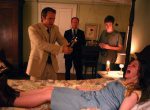 Synopsis
When he arrives on the rural Louisiana farm of Louis Sweetzer, the Reverend Cotton Marcus expects to perform just another routine "exorcism" on a disturbed religious fanatic. An earnest fundamentalist, Sweetzer has contacted the charismatic preacher as a last resort, certain his teenage daughter Nell is possessed by a demon who must be exorcised before their terrifying ordeal ends in unimaginable tragedy.
Dove Review
The protagonist of this pic is a preacher who also conducts exorcisms. However, he doesn't believe in demons and his preaching tactics are more showmanship than faith in motion. He uses parlor tricks to whip his parishioners into a religious frenzy and his exorcisms are much the same – more show than go.
As he lets a film crew tape his escapades, he is intending on exposing exorcisms as nothing more than cheap tricks until he becomes faced with a real possession. There were many twists in this film and the ending was a little awkward. The language was however over the top preventing us from awarding our Dove "Family-Approved" Seal.
Content Description
Language:
Hell as a place several times; God and Jesus used properly many times however there were two inappropriate uses of the name of Jesus; J-1; JC-1; D-1; B-1
Info
Writer:
Huck Betook & Andrew Gurland