The American
Theatrical Release:
September 1, 2010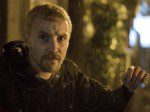 Synopsis
In the aftermath of a job gone awry, an American hit man retreats to the Italian countryside, where he befriends a local priest and strikes up an unexpected romance while awaiting the details of his next assignment. Jack (George Clooney) is lucky to be alive after his Swedish assignment went sour, and he knows that it's only a matter of time before his luck runs out.
Dove Review
George Clooney may be a big star, but he made a film which had me so involved that I kept looking at my watch, wondering why time was moving so slowly. There are actually several scenes in the film which included Clooney's character, Jack, driving for a long period of time and we see the road from his point of view. There is also a long walking scene with Mr. Clooney, and another one in which he takes a long time to put together a rifle. I truly believe the director was lacking motivation, imagination, or possibly both.
Jack travels to Italy to deliver a special rifle to a client and he becomes involved with a prostitute and soon develops feelings for her, as she does for him. When he tells his boss via phone that he wants to complete the job and then "get out" of the business, the boss decides he wants him out of commission for good. Without plot spoiling, let's just say that on top of being very slow moving in parts, the movie has a bummer of an ending. At any rate, it certainly is not family friendly with the strong violence and nudity and a few sexual scenes, not to mention the strong language, so we are unable to award our Dove "Family-Approved" Seal to this film.
Info
Writer:
Rowan Joffe & Martin Booth
Reviewer:
Edwin L. Carpenter