You Lucky Dog
DVD Release:
November 9, 2010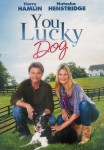 Synopsis
When Lisa returns to her small hometown, she discovers that her family's ranch is struggling for survival. Determined to make things right, she adopts a shelter dog named "Lucky" with the intention of bringing life back to the ranch. What she finds is that the determination of one little furry friend will help to inspire an entire town. Also starring Harry Hamlin, "You Lucky Dog" is an endearing journey about the importance of family, community and second chances.
Dove Review
It is amazing how a new pet in the family can cause a big change for everyone. This story tells how one cute and adorable sheep herding dog brings together a father, son and daughter following the death of the mother of the family. Lisa returns to the family farm after being away for many years and there are many changes that she is not aware of. But when she decides to stay and to adopt a dog which she names Lucky, little does she know how lucky this family will be to have this pet in their lives.
There are many lessons that are taught in this wonderful family movie. As mentioned in the synopsis, this movie has important values of family, community and working together for a second chance. Although we believe this is a wholesome entertaining movie, we must warn that there are some scenes that may frighten younger children. This being said we award this film the Dove "Family-Approved" 12+ Seal.