Easy A
Theatrical Release:
September 17, 2010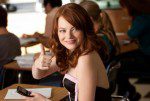 Synopsis
After a little white lie about losing her virginity gets out, a clean cut high school girl (Emma Stone) sees her life paralleling Hester Prynne's in The Scarlet Letter, which she is currently studying in school – until she decides to use the rumor mill to advance her social and financial standing.
Dove Review
This is a teen sex comedy, pretty pure and simple. Sorry, the word "pure" should not be used regarding this movie. "Easy A" is not as funny as it tries to be. It even attempts to be a bit clever with references to the classic "Scarlett Letter." Emma Stone plays Olive Penderghast and in her voiceover narration she claims she is "invisible" and "anonymous" but the pretty auburn-haired girl is neither. She is confident and she definitely draws the attention of the opposite sex in this film.
A lie about a conquest which really is told to cover up a boring weekend is the main source of plot development in this film which is definitely geared toward teens. However, parents will want to shift them toward something else this weekend, even if it is the animated but Dove-approved and delightful "Alpha and Omega". With frank sexual comments and innuendos in "Easy A", this is not the family movie that conservative families will want to view.
Info
Company:
Sony/Screen Gems
Reviewer:
Edwin L. Carpenter