Good Old Fashioned Redneck Country Christmas, A (Manuscript)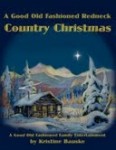 Synopsis
In this story we meet three red necks wind up in a cabin when a blizzard strikes. As they discuss the problems they have encountered with the women in their lives, suddenly an urgent need breaks in on them. A young woman named Mary Sue comes across their path and she is about to have a baby. Can these three "unwise" men help deliver this baby under difficult circumstances? This parallel to the Nativity includes humor and drama and songs to boot.
Dove Review
This story parallels the Nativity story but is staged in contemporary settings. A strong theme of the songs and story is loudly stated: It is "Merry Christmas" and NOT "Happy Holidays." I admired this strong stand in the script very much. Three rednecks named Dave and Jimmy and Bill wind up in a cabin up north on Christmas Eve and they rib each other as well as open up about their various issues with the women in their lives. The bottom line is they all care about their mates but must find some wisdom in dealing with a few of the problematic situations.
The songs in the script are pretty good and witty and a CD is even included with the manuscript which includes some real talent on display. We are gladly awarding the script four Doves and we are recommending it for age twelve and above. The positive theme of proclaiming "Merry Christmas" and working through problems, as well as strong family traditions being recognized, prompts us to recommend this script and it will be interesting to see it become a movie. We are happy to award it our Dove Seal.
Info
Reviewer:
Edwin L. Carpenter