The Wylds
DVD Release:
August 31, 2010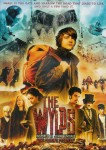 Synopsis
(New title: The Adventures of Chris Fable) Chris, a runaway child, lives with a group of misfits in a junkyard, stealing to survive. When a traveling preacher tells him that his father is alive and wants him to come home, Chris must decide whether to stay with his new family of thieves or venture into the wilderness in search of his father and a better life.
Join Chris on a journey down a narrow and dangerous path fraught with bandits, swindlers and things that go bump in the night.
Dove Review
This movie is inspired by "Pilgrim's Progress" by John Bunyan and features a young and very talented actor named Solomon Ray who plays the central character Chris, or "Christian", and the movie focuses on his journey to the Celestial City. As "Pilgrim's Progress" was big on allegory, this one is as well. A character names "Philosopher" believes the Bible is too simple to hold truth alone, and a salesman type character wants to sidetrack young Chris from his travels.
A Fagin-like Character (from "Oliver") helps keep a group of kids without homes alive by providing them food to eat and a place to stay, as long as they steal for him. When Chris gets caught stealing at a church he meets Pastor Evangeline (Elizabeth Mouton) who challenges him to find his father from whom he is estranged. Chris launches out on a symbolic journey and must deal with many enemies along the way, enemies who intend to get him sidetracked and off of the straight and narrow path.
There are a few moments of fantasy type violence and a fist fight between two characters, prompting our awarding of the Dove "Family-Approved" Seal for ages twelve and up. This is an imaginative film along with some neat special effects work and we gladly award it our Dove Seal. Enjoy this modern day "Pilgrim's Progress".
Info
Company:
Green Apple Entertainment
Industry Rating:
Not Rated
Reviewer:
Edwin L. Carpenter