Fathers Odyssey, A (Book)
Book Release:
October 1, 2010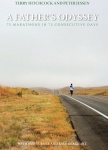 Synopsis
Terry Hitchcock lost his wife to cancer and then his job. Then he began to run in "Marathons of Hope" and became known as a man who fought back in life. He remained a good father, albeit a single parent. He remained a man of hope and he remained an encourager of himself as well as others. This is his story in his own words, including a journal of his seventy five days of running. This book is published by Bascom Hill Publishing Group.
Dove Review
This is a powerful and strongly related story. It is all the more powerful because it really happened. After Terry Hitchcock's wife, Sue, died from cancer, Terry was faced with great financial hardship and raising his children by himself. Shortly after Sue's death, he lost his job. This story of keeping hope alive and the family together is moving and Terry relates his belief that God is always with him, even when the night is darkest. He mentions his faith in God several times and how God carried him through the difficult times including when he began to train. In addition to his other trials, he relates dealing with a heart attack during his time of conditioning to run.
His inspiring story includes how he got started running marathons, including thousands of miles, in a "Marathon of Hope", and how he never realized there was always a new challenge ahead until after his wife passed on. He raised money on behalf of cancer research and learned more about being a single parent and meeting life's challenges with the help of good friends. Although this is a book older children can enjoy, due to its serious topics we are recommending the book for ages twelve and older.
Included in this book is Terry's journal of his seventy five days of running. This book is inspiring as you read about a man who did not quit when his wife died, he lost his job and then had a heart attack. He began to run and inspired others and along the way he found happiness again. Read about the TV and radio coverage his marathon inspired and Terry's zeal to further kids' education. The book contains many comments from others who know Terry and have been inspired by him. We are more than pleased to award this book our Dove "Family-Approved" Seal for ages twelve and up to his book. It is inspiring!