Paranormal Activity 2
Theatrical Release:
October 22, 2010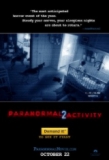 Synopsis
After experiencing what they think are a series of "break-ins", a family sets up security cameras around their home, only to realize that the events unfolding before them are more sinister than they seem.
Dove Review
This is a movie that would make many families uncomfortable. For instance, It is mentioned in the film that some girls held seances as little girls and now that they are grown up there is demonic activity in one of the young woman's homes. Chris is the woman now grown with a step-daughter, Allie, and her firstborn son, Hunter. A pool cleaner begins to move by itself at night and security cameras pick this up along with pans falling all by themselves, unexplained noises, a baby's mobile moving by itself, lights going on and off and doors moving by themselves. But this is only the beginning. Soon the disturbances become more frightening, and the baby is seen being moved and picked up with no one in the room. Unfortunately, Allie holds a seance with her boyfriend, opening up doors in the spirit realm, and things get worse.
This movie contains occult and paranormal activities and frightening images including people being literally attacked by the unseen forces. In addition the sex and language categories contain material which is above our level of acceptability. We cannot award our Dove Seal to this movie as a family-friendly film.
Info
Writer:
Oren Peli & Michael R. Perry
Reviewer:
Edwin L. Carpenter