Elf Magic: The Story of a Timeless Christmas Tradition (Illustrated Book and DVD Set)
Book Release:
November 1, 2010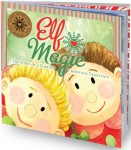 Synopsis
The 51-page book is easy-to-read and features gorgeous watercolor illustrations. The story transports readers to the North Pole, where Santa gathers his Elves for the annual reading of his story about the timeless Christmas tradition, where Elf Magic Elves are sent to children's houses around the world. Readers also learn important details about the Elves through the enchanting story, including what they like to eat and the significance of the embroidered snowflake on each Elf's chest.
As a bonus, on the inside cover of the book, readers will find a DVD that contains a fully animated cartoon of the story and four original Elf Magic Sing-along songs. Families will delight in the creativity of the songs and the way it captivates the child and encourages them to read and sing aloud. The full lyrics of all four songs can also be found on the last pages of the book.
Dove Review
This colorful story book will charm your youngsters for generations. With a wonderful DVD to accompany this Christmas tale, your young readers can follow the story and sing the songs with the lyrics found in the book. They will enjoy this holiday special treat as Santa teaches them about the love of family values.
We are proud to award this story book the Dove "Family-Approved" Seal for all ages.