Secret at Arrow Lake
DVD Release:
June 7, 2011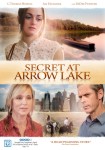 Synopsis
Mia Williams, who was raised in the family Bed & Breakfast by Sara, a loving single mom grows up believing her father was lost, M.I.A., in the Gulf War. A tragic accident results in the sudden death of Sara and Mia finds herself alone to care for the B&B while attending college. Daniel Williams, a hard-edged businessman from New York, arrives at the B&B and Mia suspects he may be her lost father. The townsfolk believe he may be responsible for Sara's death. As events unfold, Daniel clears his name and finds acceptance from the community and Mia finds a father at last.
Dove Review
Here is a film that the ladies will probably enjoy more than the guys will. It is a heartwarming story about a mother's love for her child, a love so great that she goes to great lengths to protect her young daughter from the truth. Sara does not want her daughter Mia to know the real story about her father. The truth doesn't exactly come out the way it should. But even after a misfortunate accident, Sara's story takes a twist that brings a father's love into Mia's life.
This is a story of protection, love and compassion. Due to some content, we award this film the Dove "Family-Approved" 12+ Seal for ages 12 and older.
Info
Industry Rating:
Not Rated