Hoop Dogz: 3 – God is Number One
DVD Release:
March 9, 2011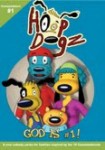 Synopsis
This third episode in the Hoop Dogz series focuses on the 1st commandment (Exodus 20: 2, 3). Hoop Dogz is a fun, Bible-based series designed to help parents teach their kids God's truths through laughter, music and great story telling.
V.J. can't wait to meet all the other Hoop Dogz at Collie Island, where they all plan to ride the brand new, super-turbo Ferris wheel. There's just one problem. He is under strict orders from his mom not to ride. He's bummed out but obedient, that is until his Basketball Hero shows up signing autographs and promoting the new ride.
Meanwhile, Chad and Rebecca's ministry is challenged when Chad mistakenly orders and takes delivery of 20,000 snow tires. Their ministry of serving God and others derails as Chad tries desperate measures to "unload" the snow tires through his TV show. He finds he is no longer putting God first, but trying to sell stuff instead!
Dove Review
Hoop Dogz are a fun faithful group that teach charming and valuable lessons that kids can relate to when learning about the ten commandments. In this episode the topic is the 1st commandment, which is there is only one God and we should put him first. The Hoop Dogz show how to relate this rule in everyday situations that kids can associate in their own lives.
This animated show is very entertaining while teaching the wonderful commandments that were given to us by God. This is a wonderful faith-based DVD that can be enjoyed by the young and old alike. We award this DVD the Dove Seal for all ages.