The Next Three Days
Theatrical Release:
November 19, 2010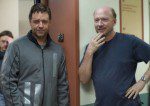 Synopsis
A man is willing to break his wife out of prison in order to get her out of a murder conviction.
Dove Review
To the filmmakers' credit, this picture does hold one's attention. It is over two hours long. Russell Crowe gives a strong performance in portraying an obsessed man, a husband who loves his wife dearly and believes in her innocence when she winds up in prison with a murder rap. He does everything possible to win her freedom and when that doesn't happen, he plots their escape as a family after consulting with a man who successfully broke out of prison (Liam Neeson).
The film rivals "The Fugitive" as it hits its climax, with time running out and John and Lara Brennan and their child fleeing as the circle of police tighten the search area and attempt to nab them. Loyalty is a nice theme in the movie. Unfortunately, it doesn't make our cut as a family-friendly film due to very strong language and a few scenes of bloody violence. It is too bad but how about using your next three days to see "Megamind" or a Dove family-approved film?
Info
Writer:
Paul Haggis & Fred Cavayé
Reviewer:
Edwin L. Carpenter