Faster
Theatrical Release:
November 24, 2010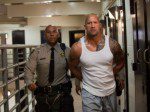 Synopsis
A stint in prison usually has one of two effects on a man – it either breaks him down or makes him stronger. For Driver (Dwayne Johnson), a 10-year sentence proved the latter. His strength was not just fueled by time, but also by a hunger to avenge the murder of his brother during the botched bank robbery that led to his own imprisonment. Untouchable on the 'inside,' he made plenty of enemies in prison – men who were counting the days until his release so they could exact their own revenge on the outside. Now, on the day of his release, he is hell-bent on reaping vengeance.
Dove Review
Driver (Dwayne Johnson, "The Rock") is newly paroled from prison, and REVENGE is the first thing on his mind. He makes finding the men who killed his brother and took the money from their bank robbery his main priority. A reformed minister who accepted Christ while in prison encourages Driver that both of their souls are important to God and worth saving. This is a nice aspect in the film.
Following Driver like a shadow is the police officer known as Cop (Billy Bob Thornton) and Killer (Oliver Jackson-Cohen), who is an assassin. Cop is a drug addict and is seen using drugs in the movie and he fights and argues with his partner Cicero (Carla Cugino). There are other issues to be dealt with by various characters in the movie, including the difficulties of moving past a divorce as it pertains to the ex-wife and child. However, despite the good intentions of the minister and some nice themes interwoven in the plot, the film is over the top in the sex, language, violence and drugs category and does not come close to being family-friendly so we regrettably cannot award it our Dove Seal.
Info
Writer:
Tony Gayton & Joe Gayton
Reviewer:
Edwin L. Carpenter