Love and Other Drugs
Theatrical Release:
November 24, 2010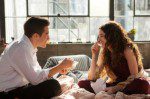 Synopsis
Maggie (Hathaway) is an alluring free spirit who won't let anyone – or anything – tie her down. But she meets her match in Jamie (Gyllenhaal), whose relentless and nearly infallible charm serve him well with the ladies and in the cutthroat world of pharmaceutical sales. Maggie and Jamie's evolving relationship takes them both by surprise, as they find themselves under the influence of the ultimate drug: love. Based on Jamie Reidy's memoir "Hard Sell: The Evolution of a Viagra Salesman."
Dove Review
Jamie, the character Jake Gyllenhaal plays in this movie, has been a skirt-chaser, womanizer with only one thing on his mind. When he meets Maggie (Anne Hathaway), he still only has one thing on his mind for awhile. However, after a passionate love affair cools off he realizes that the relationship means much more to him than just the physical aspect of it. Despite Maggie's Parkinson's disease, which is in stage one in spite of her youthful age of twenty six, Jamie soon can't imagine himself without Maggie. Maggie too, who has held up her defenses like a fort, finally lets some walls down and says it feels good to have someone there for her.
This film offers some nice themes such as loving a person despite their physical problems and lack of perfection. It also features an inspiring and nice scene of Parkinson's disease victims giving testimonies as to how they have fought on through the problems they have endured. Yet, despite these positive elements, this film is a very hard R-rated film, featuring full frontal female nudity, rear female and male nudity, several sexual scenes of the unmarried couple which are rather graphic, and a ton of strong language. In addition, included are multiple uses of the F bomb and the Lord's name taken in vain. We didn't realize it was this strong in these areas until we actually screened it. For these reasons, we cannot recommend this movie as a family-friendly film.
Info
Company:
20th Century Fox
Writer:
Edward Zwick & Charles Randolph
Reviewer:
Edwin L. Carpenter