The Warriors Way
Theatrical Release:
December 3, 2010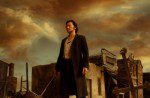 Synopsis
The Warrior's Way is a visually-stunning modern martial arts western starring Korean actor Dong-gun Jang who plays an Asian warrior assassin forced to hide in a small town in the American Badlands. Rounding out the ensemble cast are Kate Bosworth, Oscar-winner Geoffrey Rush, Danny Houston, and Tony Cox.
Dove Review
This is an Eastern Western! Dong-gun Jang plays Yang, an Asian warrior assassin who is forced to flee from his homeland and he hides in Lode, a small town in the American Badlands. He meets Lynne, played by Kate Bosworth, who desires to learn his fighting skills. She is set on getting revenge on a villain who once held her hostage with the plan to rape her. When she managed to escape, which we see in a flashback, he chased her down and shot her and killed her entire family. Miraculously, she lived and now she intends to even up the score.
With assassins on his tail, Yang has his own battles to be concerned about as he tries to raise a baby, the last survivor of his enemies whom he vanquished. He couldn't bring himself to kill the child but those who seek him want her dead as much as him. This film does hold to a theme of a child being our future, and it was nice to hear the town's people, many making up the local circus, greet each other with "Merry Christmas!" It has great cinematography too. But with graphic violence in the film not to mention gratuitous violence and strong language to boot, we cannot award our Dove Seal to this movie as a family-friendly film.
Info
Reviewer:
Edwin L. Carpenter