The Power of the Words
DVD Release:
February 1, 2011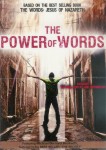 Synopsis
THE POWER OF WORDS takes its form from R. Lee Cantelon's book, THE WORDS: Jesus of Nazareth, where the core words of Christ are edited together without the rest of the intervening text. It is Jesus' words alone that are used to teach believers how to live and how faith makes a difference in their lives. This book offers the message of Christ in language that is easy to understand, and has exposed the Words of Jesus to many non-traditional readers who are curious about the meaning and depth of Christ's words. Cantelon's book has been translated into more than twenty languages, including Arabic and Chinese. It was also awarded the Nihil Obstat and Imprimatur by the Catholic Church.
This uplifting film chronicles a two year experience, a journey through the creation of this testament, featuring visionary teacher Michael Bernard Beckwith (The Secret). His words of wisdom anchor and validate the spiritual experiences expressed by the Grammy-winning artists featured in this powerful production, whose life-changing encounters are expressed through THE WORDS: Jesus of Nazareth. THE POWER OF WORDS reveals the personal, behind the scenes moments you won't find anywhere else. Experience the Journey!
Dove Review
Director Richard Shaw incorporates famous rappers and singers in this DVD about hip-hop music and rappers rapping for Jesus. Several artists perform and include scriptures from "The Words of Jesus of Nazareth", a book of scripture readings. D.J. Dreghost and Bone of Thugs-N-Harmony shares comments. Bone sings too. And Michael Bernard Beckwith who has an Agape Spiritual Center with 8,000 members and who has appeared on Oprah and Larry King Live speaks about the spiritual nature of the songs. Other artists include Big Chan, a fashion designer and singer, and Layzie Bone. It should be noted that there are a few profanities uttered and some that are clearly bleeped out.
Other artists include Yo Yo, a grammy nominated rapper discovered by Ice Cube and who first appeared with Boyz in the Hood. One man comments that some people live a profane life and speak wholesomely while some of the rappers may use some profanities but have an underlying wholesome message. It should be noted because some of our readers, after consulting the content chart below, may want to pass over this one but others will enjoy the rap music and the message behind the music. There is clearly a sincere expression from various singers and the gospel is quoted by comments and in song. We therefore award our Dove "Family-Approved" Seal for ages twelve plus to this DVD, while noting that parents should consult the content listing below to make their own informed decisions.
Info
Company:
Cinevision Digital
Industry Rating:
Not Rated
Reviewer:
Edwin L. Carpenter