The Penny
DVD Release:
April 5, 2011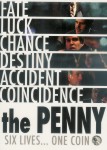 Synopsis
"The Penny" is a drama/thriller that follows a series of seemingly insignificant events in a number of people's lives. Hidden amidst their bigger problems, these disconnected pieces go unnoticed until they begin to fit together in a totally unexpected way. Suddenly these strangers are thrust together by what some would call luck, chance, coincidence, or even destiny. But is it something even bigger?
Dove Review
Sometimes in our lives we ask the question,"Why does God allow bad things to happen?" Jack, a former police officer, lost his partner in a shooting 10 years earlier. Little does he know that his past and present lives are about to come crashing together all because of one little penny. During this fascinating and complex story, Jack's life intersects with five other people who also come in contact with the same penny, in a surprising twist of fate, all orchestrated by God. This moving drama shows that God had a plan for each of the principal characters, even when it didn't seem so at first.
"The Penny" is a story that emphasizes the importance of faith and family, and how people are connected in ways they often don't realize. Due to some sophisticated content, we award this film the Dove "Family-Approved" for ages 12 and over. It is well worth seeing.
Info
Company:
Bridgestone Multimedia Group
Industry Rating:
Not Rated
Reviewer:
Donna Rolfe and Dick Rolfe