Juno Jr: One Bunny Band
DVD Release:
November 12, 2013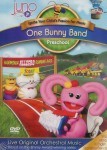 Synopsis
Geared toward your growing preschooler, Juno Jr. expands on the Emmy Award Winning Juno Baby line with beautiful, original, orchestral music, rich story lines and a deep emphasis on music education and appreciation. Join Juno and her brother, Rai Rai, as they take an adventure to the imaginary, magical, musical world of Harmonia Springs.
"One Bunny Band": After Bunny's "serenade stand" doesn't live up to her expectations Indie hires her to be in his own, personal "One Bunny Band." Indie gets more than he bargains for as Bunny misses the music mark time and time again. But in the end, Bunny and her friends learn how to put feeling into their music through concepts such as tempo, dynamics and articulation.
Dove Review
Juno and her little brother Rai Rain teach their friends about the tempo in music. With wonderful songs, this DVD will educate and entertain the preschoolers in your family. It is never too early to introduce music to children and this is one way that will definitely be fun.
This DVD is a great way to introduce the feeling of music to children. Here is a show that is educational while entertaining. We award "The Day the Music Stopped" with the Dove "Family-Approved" Seal for all ages.
Info
Company:
The Juno Company
Industry Rating:
Not Rated