Enchanted Tales: Princess Tales
DVD Release:
December 1, 2011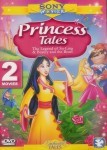 Synopsis
This DVD contains two classic stories: The Legend of Su-Ling & Beauty and the Beast.
Beauty and the Beast: Magical adventure, romantic enchantment and musical fairytale fun abound in this wondrously animated, irresistible new adaptation of this timeless classic.
The Legend of Su-Ling: A far Eastern fairy tale classic springs of life in this richly animated Enchanted Tale of a handsome Prince, the peasant girl he is forbidden to love and the tiny nightingale who holds the key to their happiness!
Dove Review
Beauty and the Beast is one of my favorite fairy tales. It shows the importance of what is inside a person, and not what is on the outside. This animation of the classic story will entertain while teaching a valuable lesson.
"Legend of Su-Ling" is a tale of true love and that if it is meant to be it will happen no matter what. This is a wonderful tale about Prince Chen and Su-Ling who find their way to love even though they think they come from different backgrounds that will keep them apart. It's a great illustrated presentation of both tales that will be enjoyed by the entire family. We award this DVD, which includes both stories, the Dove "Family-Approved" Seal for all ages.