Country Strong
Theatrical Release:
January 7, 2011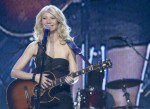 Synopsis
In "Country Strong" Hedlund plays a rising young singer/songwriter who becomes involved with a fallen country singer played by Paltrow. As they embark on a career resurrection tour with her husband/manager (Tim McGraw) and a beauty queen turned singer (Leighton Meester), romantic entanglements and old demons threaten to derail them all.
Dove Review
The acting is strong in this film with stalwart performances by the main four actors, Gwynneth Paltrow, Tim McGraw, Garrett Hedlund and Leighton Meester. Paltrow plays Kelly Canter, a country singing superstar who underwent a tragedy in Dallas and wound up in rehab as a result. She is released to the care of her manager/husband James (McGraw) who wants to move forward and get his wife's career back on track. Unfortunately for Kelly, the road to recovery does not come that easy as she has a few breakdowns as she sets out on tour. Along for the ride are newcomer singing sensations Beau Hutton (Hedlund) and Chiles Stanton (Meester) who both have a few things to learn including Kelly's philosophy that "love is the most important thing and you can't have love and be famous at the same time." It seems impossible for her to remain civil with her husband for any length of time while she is on the road. She continues to battle the demon of drink as well.
When the tour targets Dallas as its final stop, everyone hopes Kelly will have a better memory following the stop. However, a few surprises remain. The movie contains a theme that reveals that some people deal with tragedy in tragic ways and they hide their hurts. This story is entertaining with its drama and music but regrettably there is a lot of use of strong language including biblical profanity as well as a married woman having an affair and an unmarried couple having sex. We cannot recommend it as a family-friendly film and therefore cannot award the movie our Dove Seal.
Content Description
Violence:
A woman slaps a man; arguments; a bloody baby doll is delivered to a woman as a mean gift.
Violence:
A woman slaps a man; arguments; a bloody baby doll is delivered to a woman as a mean gift.
Info
Company:
Sony/Screen Gems
Reviewer:
Edwin L. Carpenter