The Way Back
Theatrical Release:
January 21, 2011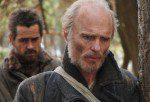 Synopsis
Inspired by Slavomir Rawicz's acclaimed novel, "The Long Walk: The True Story of a Trek to Freedom" as well as other real life accounts, six time Oscar nominated director Peter Weir's ("Witness", "Master And Commander", & "Dead Poet's Society") "The Way Back" is a remarkable adventure story chronicling the escape of a small group of multi-national prisoners from a Siberian gulag in 1940 and their epic life affirming journey over thousands of miles across five hostile countries. Stars Ed Harris, Colin Farrell, Jim Sturgess, Saoirse Ronan.
Dove Review
This movie is based on Slavomir Rawicz's work "The Long Walk," which is a memoir. The film is picturesque for sure. A group of soldiers walk a decidedly long time in scenes of beautiful terrains and backgrounds and at times a glowing sun is their beautiful backdrop.
However, this story of war proves once more that war itself is not beautiful. Janusz (Jim Sturgess) is a Polish POW. He is arrested on suspicion that he was spying on the Soviets. This is based on a written confession signed by his wife which was, incidentally, against her will. Janusz is then imprisoned in the Siberian Gulag, which should have one of those signs which read "Abandon all hope ye who enter here!" A man named Smith (Ed Harris), is a fellow prisoner and he is a stoic American. I must add here that I enjoy Ed Harris' work and he even plays a stone-faced character well! Colin Farrell rounds out the cast as a Russian strong-arm and Mark Strong who comes up with an escape plan.
The story pretty much is capable of retaining the audience's interest but unfortunately the content is what keeps us from awarding our Dove Seal to the movie as a family-friendly film. It contains a character "damning" another one and The Dove Foundation does not award our Seal to films which include a "damning" curse; in addition there are a few utterances of very strong language and the film features a scene of an explicit drawing of a nude woman and the violence level also is high due to a graphic stabbing scene. It's too bad and a shame that the content wasn't toned down.
Info
Writer:
Keith R. Clarke & Slavomir Rawicz
Reviewer:
Edwin L. Carpenter