127 Hours
Theatrical Release:
January 28, 2011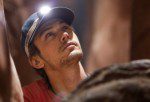 Synopsis
127 Hours is the true story of mountain climber Aron Ralston's remarkable adventure to save himself after a fallen boulder crashes on his arm and traps him in an isolated canyon in Utah. Over the next five days Ralston examines his life and survives the elements to finally discover he has the courage and the wherewithal to extricate himself by any means necessary, scale a 65 foot wall and hike over eight miles before he is finally rescued. Throughout his journey, Ralston recalls friends, lovers, family, and the two hikers he met before his accident. Will they be the last two people he ever had the chance to meet?
Dove Review
This movie features a strong performance by James Franco, who has been nominated for a best actor Oscar. He draws the viewer into his pain. As I screened this film I felt his anger, his frustration, his hopelessness and finally his desperation as he cuts off his own arm in order to survive having been trapped for five days in an isolated canyon, his right arm pinned beneath a boulder which fell as he did. A tourniquet he has wrapped himself is his only hope of survival. But can he find someone who can help him before someone finds him too late?
The film does a nice job in capturing his regrets as he thinks back to not returning his mother's last phone call to him, and also his consistent habit of not telling anyone where he is headed. He thinks about his family and remembers his childhood. He also has a premonition of a future life with a wonderful woman and even as a father as he sees a young child in what seems to be a dream or vision. But can he survive to give that future a possibility?
Unfortunately, despite Franco's stirring performance and the tight direction of the film, it contains a lot of utterances of the F bomb and the realistic scene involving his dismembering his own arm will be too much for some viewers to stomach. Therefore, we regret we cannot award our Dove "Family-Approved" Seal to the film.
Info
Company:
Fox Searchlight Pictures
Writer:
Danny Boyle & Simon Beaufoy
Reviewer:
Edwin L. Carpenter