The Eagle
Theatrical Release:
February 11, 2011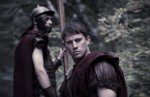 Synopsis
In Roman-ruled Britain, a young Roman soldier endeavors to honor his father's memory by finding his lost legion's golden emblem.
Dove Review
A Roman centurion named Marcus Aquila (Channing Tatum) sets out to clear his family's name by finding the eagle, the symbol of Rome's honor. It's been missing for twenty years ever since his father suffered a military defeat. The story takes place in 140 A.D.
This film is not as violent as some I have seen, but unfortunately it hits a three in our content listing and that prevents it from receiving our Dove "Family-Approved" Seal. It does have its violent moments for sure and plenty of carnage. It's rated PG-13 but is a strong PG-13 and although some of the battles seem to have been edited there is enough violence for us to give a strong word of caution.
The theme of fighting for one's family and honor is nicely handled but unfortunately when there are no action sequences on the screen the film tends to be slow paced in spots. In one sense, it seems not to live up to its potential in that the story is just not quite strong enough and, in addition, falls short in the family-friendly arena. Channing Tatum physically wears the armor well and handles his role convincingly. But for our Dove families, the all-too-real sword and spear battles are a bit too much.
Info
Writer:
Jeremy Brock & Rosemary Sutcliff
Reviewer:
Edwin L. Carpenter