Cop Dog
DVD Release:
August 3, 2010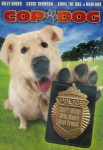 Synopsis
Dog Gone – or is he? He's the coolest canine ever – even if only one boy can see him. Just when you thought you'd seen every boy-meets-dog movie on the shelf, there's COP DOG, a fantastically magical story that will steal your heart and send your sense of adventure through the "woof!"
Meet Robby (Billy Unger). Ever since Robby's father, a police officer, was killed in the line of duty, Robby has been angry and reclusive…until he finds Marlowe, his father's former police dog. The two become fast friends but abruptly, while the keen cop dog pursues two criminals onto a busy street, Marlowe too is tragically snatched from Robby's life.
But what appears to be the end is really just the beginning of a miracle as Marlowe returns to take Robby and his best friend Deb (Cassi Thomson) on the adventure of their lives! Solving robberies and unraveling the details of his father's death, keep Robby and friends on the move in this family film that will have you cheering big and believing bigger in the power of friendship.
Dove Review
It is always hard for a child to except a loss of a parent. A year ago Robbie lost his dad and is still trying to come to terms with it. Robbie and his mom decide to adopt his father's K9 partner Marlowe, but when Robbie and Marlowe get to close to what really happened to Robbie's father tragedy hits again. Then something magical happens to bring out the truth that has happened to both the police officer and his K9.
This is a charming movie about one little boy and the aid he gets to help him recover from his personal loss of his father and a dog. With clumsy bad guys and a mystery to solve, the family will enjoy this movie from beginning to end. It is a wholesome movie that will make you laugh and cry at times, making it the perfect family night movie. We award "Cop Dog" the Dove "Family-Approved" Seal for all ages.
Content Description
Violence:
Dog is hit by vehicle; dog attacks man; men shoplift; men break into house; men chase children.
Violence:
Dog is hit by vehicle; dog attacks man; men shoplift; men break into house; men chase children.