Against All Odds: Israel Survives
DVD Release:
October 10, 2006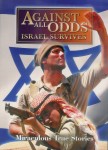 Synopsis
Israel's rebirth and survival in the 20th century has been called a miracle. Those who were there cite their own experiences as proof. These are their stories. Completed in 2006 and as timely as today's headlines, "Against All Odds: Israel Survives" is a powerful and uplifting spiritual journey through Israel's turbulent history. Remarkable stories of awe-inspiring supernatural phenomena that helped to create and preserve modern Israel come to life in gripping dramatizations, eyewitness accounts, and interviews with the people who experienced these miracles of biblical proportions!
Dove Review
This is a powerful and compelling DVD featuring investigative reporter Michael Greenspan, who travels to Israel to see if several stories of "miracles" are genuine. Did God help Israel out in miraculous ways following the history of the Bible? Did he help the British army liberate them in 1918 and perform a modern-day miracle at Michmash? Did he help them become an independent nation in 1948? Did he help them during the Six Day War of 1967? Did he help them survive a mine field at Golan Heights at the Syria-Israeli border in October, 1973? Did he help Israeli spy Shula Cohen in a miraculous way when the enemy infiltrated her abode and could not find a secret letter even though they looked in the exact spot where she had hidden it minutes before? And what did President Richard Nixon do when called upon by Israel to help them in a time of urgent need? As Greenspan says in this documentary, military experts at West Point won't study Israel's wars because the outcomes are too impossible!
This is an intriguing look at the little motley group from Israel and how they have overcome the odds over the years despite being far outnumbered and facing modern-day "Goliaths" to their David-like stature. It needs to be noted that there are several violent scenes depicted in the film, including a man who has a badly burned and bloody back, a woman who is tortured and hit and whipped, and a few throats of the enemy are slit in the dark. Also there is a decapitation of an enemy soldier which takes place just past nineteen minutes into the documentary but it is seen for no more than a second or two and without blood and takes place in darkness. Still, due to these scenes this isn't for the faint-hearted. On the other hand, this DVD moved me greatly in spots as you "see" the events which happened. The Israeli army that comes across the minefield will have to find the mines and deactivate them but suddenly a very, very strong gust of wind rises up and the moon comes out and the men can clearly see each and every mine as the desert sand is blown away. As soon as they navigate the mine field, the wind ceases. We are glad to award our Dove "Family-Approved" Seal to this DVD for ages twelve plus while once again noting that parents should consult our content listing below to make their own informed decisions as to their older children viewing it. As Michael Greenspan says in the end, a choice will inevitably have to be made. Do you believe in miracles or not? Our choice is to recommend this fantastic DVD as a strong supporter of spiritual heritage and the belief in a God of miracles.
Info
Company:
American Trademark Pictures
Writer:
Tom Ivy & William Paul McKay
Industry Rating:
Not Rated
Reviewer:
Edwin L. Carpenter