Of Gods and Men
Theatrical Release:
March 18, 2011
DVD Release:
July 5, 2011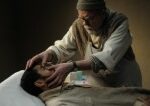 Synopsis
Eight French Christian monks live in harmony with their Muslim brothers in a monastery
perched in the mountains of North Africa in the 1990s. When a crew of foreign workers
is massacred by an Islamic fundamentalist group, fear sweeps though the region. The
army offers them protection, but the monks refuse. Should they leave? Despite the
growing menace in their midst, they slowly realize that they have no choice but to stay…
come what may. This film is loosely based on the life of the Cistercian monks of
Tibhirine in Algeria, from 1993 until their kidnapping in 1996.
Dove Review
This film is in French with English sub-titles.
This is the story of a group of monks of the Monastere de l'Atlas, France who are taken hostage by the extremist group; the Jama Islamiyya. Their kidnappers demand the French government free the hostages belonging to their group in exchange for the monks.
The story leading up to their captivity and destiny reveals how the monks reach out to others in the surrounding area of the monastery, including those who eventually take them hostage. They live a simple and frugal life and help the sick with medicine. The aid of one of the monks is also a doctor and gives medical treatment to needy people. The monks realize they are in danger and discuss whether or not they should flee or remain. Their leader, Bro. Christian, reminds them of their purpose and sacrifice.
This film has a powerful climax which will remind everyone that living out one's faith can come with a price. Due to scenes of violence and one strong obscenity, we are awarding this film the Dove Faith Based Seal, which means the film has a strong message of faith and forgiveness, but also contains some potentially objectionable content. Families should consult our content chart below.
Info
Company:
Sony Pictures Home Entertainment
Reviewer:
Edwin L.Carpenter, Dick Rolfe