Big Mommas: Like Father Like Son
Theatrical Release:
February 18, 2011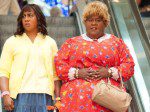 Synopsis
FBI agent Malcolm Turner and his 17-year-old son, Trent, go undercover at an all-girls performing arts school after Trent witnesses a murder. Posing as Big Momma and Charmaine, they must find the murderer before he finds them.
Dove Review
This movie is nothing original, full of cliches of any movie I have ever seen in which a male takes on the disguise of the female gender. In this case, it is Martin Lawrence who plays FBI agent Malcolm Turner who goes undercover and enlists the help of his step-son, 17-year-old Trent (Brandon T. Jackson). A dude named Kurtis Kool is attracted to "Big Momma", the name given to Turner's alter-ego. And, as in other movies of this sort, he almost blows his disguise and reverts back to his old voice, accidentally of course, on more than one occasion. On the other hand, despite the cliches, Lawrence is genuinely funny in the role. In one scene he says when he was growing up his family was so poor that they would go to Kentucky Fried Chicken, where the chicken was said to be "finger-licking" good, to lick other people's fingers! One thing I like in the film is "Big Momma" stating that too many girls try to diet and are too thin and they need to eat and take care of themselves.
Despite some good music and performances in the film, and that the character of Trent decides to go to college in an about-face decision, there are some content issues including the sheer number of times the use of strong language is heard, and the strong sexual innuendos and comments which take place, which prevents us from awarding our Dove Seal to this film as "family entertainment" for the whole family. Sad but true.
Info
Company:
20th Century Fox
Writer:
Matthew Fogel & Don Rhymer
Reviewer:
Edwin L. Carpenter