Hall Pass
Theatrical Release:
February 25, 2011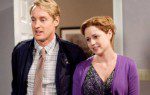 Synopsis
A married man is granted the opportunity to have an affair by his wife. He is joined in the fun by his best pal and things get a little out of control when both wives start engaging in extramarital activities as well.
Dove Review
Whew! This one has a lot of double entendres in it. In fact, it's safe to say this movie is pretty much about sex and nothing else. Two men coming up on age forty get permission to "live it up" for a week while their wives go on vacation together. Although only one character, one of the wives, actually commits physical adultery, there is a lot of adultery on the mind of the other characters. Owen Wilson plays Rick and Jason Sudeikis plays his friend Fred.
I would like to come up with a positive thing or two to say about this one, but just can't. The open marriages and obsession with sex leaves this one as a plot-thin piece of cinema. We have characters who stare at women's rears, implied oral sex and implied masturbation. It is hedonism gone wild. Not that sex is a bad thing, within marriage. But that's just the point. The non-commitment of these arrangements in the character's marriages goes against good moral principles. On top of that, a teen in the film has an adult buy liquor. That is a poor example by the filmmakers. At any rate, we can't come close to awarding our Dove "Family-Approved" Seal to this one.
Info
Writer:
Pete Jones & Peter Farrelly
Director:
Bobby Farrelly & Peter Farrelly
Reviewer:
Edwin L. Carpenter