The Adjustment Bureau
Theatrical Release:
March 4, 2011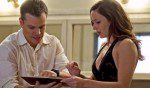 Synopsis
Do we control our destiny, or do unseen forces manipulate us? Matt Damon stars in the thriller The Adjustment Bureau as a man who glimpses the future Fate has planned for him and realizes he wants something else. To get it, he must pursue the only woman he's ever loved across, under and through the streets of modern-day New York. On the brink of winning a seat in the U.S. Senate, ambitious politician David Norris (Damon) meets beautiful contemporary ballet dancer Elise Sellas (Emily Blunt)-a woman like none he's ever known. But just as he realizes he's falling for her, mysterious men conspire to keep the two apart. David learns he is up against the agents of Fate itself-the men of The Adjustment Bureau-who will do everything in their considerable power to prevent David and Elise from being together. In the face of overwhelming odds, he must either let her go and accept a predetermined path…
Dove Review
I will say this for "The Adjustment Bureau", it has an interesting story line and makes one think about the moments which delay us, hinder us and block us from our schedules and goals. Could it all be part of a grand design which intends for us to get to our destination according to the "Chairman's" plan? We have case managers who "monitor" character's activities. But then we have David Norris (Matt Damon) who falls in love with ballet dancer Elise Sellas (Emily Blunt) and despite what he learns from the adjustment bureau, that it is not in the grand scheme of things for him to wind up with Elise, his determination in finding a way to be with her becomes the springboard for the film and assures the audience of plenty of action and suspense. I will not plot spoil and tell you whether he is successful or not in changing the "Chairman's" mind, but I can tell you that based on the content in the film we are unable to award our Dove "Family-Approved' Seal to the movie as a family-friendly film. And that's unfortunate as the film does contain a powerful message about love.
The movie is strong with language and crosses our acceptability level in the sex category as well. That is too bad. What could have been an entertaining film for the family falls short in the wholesome entertainment department.
Info
Company:
Universal Pictures
Writer:
George Nolfi & Philip K. Dick
Reviewer:
Edwin L. Carpenter