Two Bits & Pepper
DVD Release:
March 1, 2011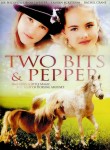 Synopsis
Ty and Katie love to ride their horses, Two Bits and Pepper. But when Ty disobeys her parents' rules and rides to town, she finds herself in a world of trouble. Angry about the consequences, Ty runs off to Katie's house while her parents frantically search for her. But just as the girls head to bed, two amateur kidnappers (Joe Piscopo, in a dual role) break in and capture the friends, holding them for ransom. Now the heat is on to bring the girls home safely — and joining the search are the biggest heroes of all … Two Bits and Pepper.
Dove Review
If you like horses, you will love the two featured in this fun adventure. Two Bits & Pepper both talk to each other in human voices making this film fun to watch for adults and kids alike. Ty and Katie are a couple of young girls who get a little bored at home so they venture to town against Ty's mother's wishes. When she and her mother get into an argument, Ty runs away from home and goes to her friend Katie's house without telling her mom.
A frantic search ensues and the horses get involved. When a couple of bad brothers try to kidnap the girls the entire town enters the search. This was a fun action-filled adventure that has a strong message that you should obey your parents. Dove is pleased to award this film our "Family-Approved" Seal for ages 12 and over due to some language and the peril of the fire.
Info
Company:
Echo Bridge Home Entertainment
Producer:
Richard Pepin and Joseph Merhi
Starring:
Joe Piscopo
, Dennis Weaver and Lauren Eckstrom