Beastly
Theatrical Release:
March 4, 2011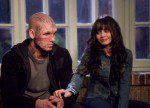 Synopsis
A modern-day take on the "Beauty and the Beast" tale where a New York teen is transformed into a hideous monster in order to find true love.
Dove Review
This is a modern telling of the "Beauty and the Beast" tale. It does so fairly well, with some good acting from both leads, Alex Pettyfer as Kyle, the handsome young man who is placed under a curse and takes on a face with veiny marks and what looks like a boil. Vanessa Hudgens plays Lindy, the compassionate and kind-hearted woman who falls for Kyle and sees his inner virtues. Neil Patrick Harris plays an off-the-wall and funny blind tutor named Will, who is summoned to teach Kyle when his father doesn't know how to deal with the situation. Lisa Gay Hamilton also plays a key role as the maid who is, against her will, not able to be with her children at the moment, and understands the heart and gives Kyle some good advice as to how to win Lindy, namely to "think" and understand what kind of young woman she is and what her needs are.
The theme of looking for the true person under the skin is nicely done and there are some good moments such as when Kyle refers to himself as ugly and Lindy says quietly and with conviction, "You are not ugly."
Despite these good moments, there is very strong language in the film in addition to the idea of a witch casting a spell on Kyle to make him ugly, although she does seem instrumental in helping out his friends in the end. The curse involves someone having to say they love Kyle within a year or his "beastly" looks will remain for good. At any rate, we are unable to award our Dove Seal to this picture due to the strong language as listed below.
Info
Writer:
Daniel Barnz & Alex Flinn
Reviewer:
Edwin L. Carpenter